DOCTOR BABOR 3D Ultimate Firm & Lift Facial
Doctor Babor 3D Firm & Lift Facial Treatments helps to reduce wrinkles, tighten and firm the skin's tissue, strengthen and tone the natural facial contours.  Valuable silicone minerals and yellow poppy extract thin the layers of subcutaneous fatty tissue underneath the skin's surface to minimise the double-chin effect.  Restructures the skin connective tissue and plumps it up intensively from the inside, leaving skin feeling smoother and firmer.  Contains a hyaluronic acid  complex, marine collagen and collagen booster protein.  Facial Contours look as if they have been remodelled and appear more youthful.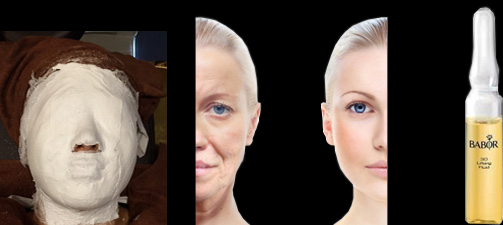 DOCTOR BABOR 3 D MODELAGE – SCULPTS & LIFT, SHAPEN FACE CONTOUR INSTANTLY
WITH BABOR LIFTING AMPOULE
DOCTOR BABOR 3D Ultimate Firm & Lift Intensive Neck Treatment
BABOR adopts Perfluordecaline, a special medical oxygen carrier to ensure an exceptional amount of oxygen can be incorporated in the transport vesicle of skin.  Natural edelweiss extracts calm the skin and protect against aging free radicals.  NMF factors (lactic acid & amino acids) supplies and binds moisture.  Skin tone is instantly rejuvenated, brightened up and goes rosily younger.  Suitable for stressed skin of polluted city-dwellers.